In 1977, New York was a city on the brink. Facing total financial insolvency, the city had gutted its police and fire departments two years prior, firing some 50,000 city workers in the single largest lay-off in New York City history. The move had ushered in an era of what police labeled "misdemeanor homicides," during which a guilty murder plea guaranteed no more than three years in prison (and sometimes landed criminals no jail time at all).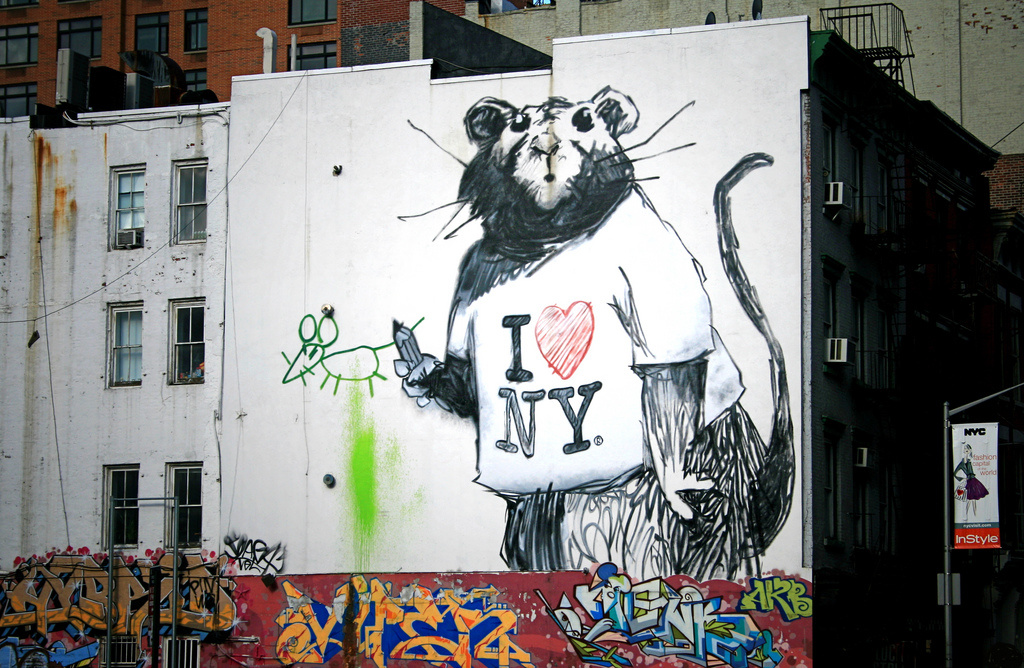 Unions organized a media campaign titled "Welcome to Fear City," warning would-be tourists that "hotel robberies have become virtually uncontrollable," "you should never ride the subway for any reason whatsoever," and that all should "stay away from New York City if you possibly can."
To make matters worse, a deranged serial killer operating under the alias "Son of Sam" was loose in the streets. He managed to kill six people and seriously injure seven more with a hunting rifle before his capture on August 10, 1977. In the words of a TIME magazine editorial of the day, "Scarcely anyone today needs to be told about how awful life is in nerve-jangling New York City, which resembles a mismanaged ant heap rather than a community fit for human habitation." Demonized by journalists the world over, the city's public image had never been so menacing.
Under the auspices of commissioner John Dyson and deputy commissioner Bill Doyle—both veterans of financial marketing—the cash-strapped New York Department of Commerce (DOC) bet the city's future on a Hail Mary investment. It upped the state's annual tourism budget from $400,000 to $4.3 million to fund the most audacious and far-reaching rebranding campaign the state had ever seen.
Dyson and Doyle's thinking was chiefly pragmatic. As Miriam Greenberg, sociology professor at the University of California, Santa Cruz, explains in her book Branding New York, "Tourism marketing transcended conflict, presenting an inclusive face of New York City for everybody, rich and poor, citizen and visitor, to enjoy."
The key was finding a way to capture and convey this unifying spirit. "I remember Bill Doyle saying that the words that matter in advertising are: 'new,' 'free,' 'improved,' and 'love,'" recalled Dyson. "And he comes back the next day and says, 'Well, 'I love New York' has 'love' and 'new' in it. So I got two of the four powerful words of advertising.'"
The city had its slogan—now it needed a visual. Enter Milton Glaser. Having made a name for himself as the co-founder of New York Magazineand the technicolor visionary behind the much-acclaimed poster for Bob Dylan's 1967 "Greatest Hits" album, the Bronx native was an obvious choice given both his prodigious talents and lifelong connection to the city. "I never separated the city from myself," Glaser told the New York Times. "I think I am the city. I am what the city is. This is my city, my life, my vision."
Working swiftly, Glaser sketched out a mockup of a logo with the text embossed over two stacked lozenges. Dyson and Doyle immediately accepted, but the designer remained unsatisfied. Chewing over the problem in the back of a yellow taxi cab the next day, Glaser was hit by flash of inspiration. Scrambling for something to write with, he used a red crayon to scribble the beginnings of the now-iconic  I ❤ NY logo on the back of a torn envelope.
At first, the new design was met with skepticism. Many feared the boxy formation was "too cryptic" to excite outside curiosity. It wasn't until Doyle personally test-marketed the design by wearing a custom-made T-shirt during a vacation to Barbados—where he was repeatedly stopped on the street by other tourists inquiring where they could get their own—that the logo was fully endorsed.
The rest, as they say, is history. By 1978, I ❤ NY was "the most talked about and successful tourism program in the nation," according to the DOC, credited with more than tripling the state's visitor spending revenue from $500 million in 1976 to $1.6 billion in 1977. As Greenberg writes, "the campaign won every award for which it was eligible"—including a special Tony Award for a coordinated Broadway TV commercial—astonishing even its artistic originator with its astronomical notoriety. "It's freakish," Glaser told the Times. "Also, it's something I wish people would forget, because I've done other things."
For all his qualms concerning the logo's allure, Glaser is categorical about its legacy. "I think its most profound effect was inward, which is to say it reminded [New Yorkers themselves] of their own commitment to life in the city," he said. "One thing we know is that reality is conditioned by belief."
"Whatever you believe turns out to be what you perceive as real," Glaser continued. "And when people felt 'this is a horrible, desperate place to be,' it was; and the day that they felt 'this is a marvellous place and I want to live here,' it became that."